How Julia Roberts and George Clooney's Lifelong Friendship Helped 'Save' One Another
Two of Hollywood's most beloved stars have been friends for over 30 years. Here's the secret to their lifelong friendship
George Clooney, 61 and Julia Roberts 54, are known as two of Hollywood's most dazzling actors. They've acted together in multiple films including 2001's Ocean's Twelve, 2002's Confessions of a Dangerous Mind, and Money Monster, released in 2016.
Most recently, the two have teamed up again in Ticket to Paradise, acting as a divorced couple who make a truce so they can stop their daughter from marrying a man whom she has just met. During a press tour, Clooney and Roberts have finally opened up about their publicized friendship, and just how much it matters in Hollywood.
A "No-Date Policy"?
It's rare for two of Hollywood's most revered on-screen couples to refrain from dating. The two have played husband and wife in three films, which makes many ask, "How come they never hit it off as a couple?"
Clooney and Roberts were both asked in an Access Hollywood interview if they had to implement a 'no-date' policy, common amongst Hollywood leading stars to ensure that they remain in a professional relationship. But the truth is that a 'no-date' policy was never necessary for these two Hollywood A-listers.
In fact, the two were surprised by the questioned, and Roberts quipped, "I don't think we needed to state it. It just seemed like the right thing to do." Clooney backed this up and said that during their acting jobs, one of them was always in a relationship. But they both agreed that they were "fast friends right away", and it was nothing but fun for the two of them.
Julia Roberts and George Clooney's First Impressions
Both are considered at the top of their acting game, and their camaraderie made life a lot easier when it came to filming. Clooney said, "The beauty is, when you work with people who take their work seriously and don't take themselves seriously, and that's really fun."
When the two first met, Clooney said that Roberts made him laugh, and Roberts called him gentle, thinking to herself that he'll be a great pal. Clooney above all, respects Roberts' kindness, while she admires his fortitude.
The Secret to a True Hollywood Friendship
In an interview with The AU Review, Clooney says, "I think we enjoy the same things. We love the work, but we don't make the work our entire life." Clooney, who directed Roberts in 2002 in his directorial debut, Confessions of a Dangerous Mind, also produced Roberts's film August: Osage County in 2013.
Roberts added, "We have a similar approach to life."
Even intimate scenes have never stood in the way of the two being goofy and lighthearted with one another. Clooney said that while filming their new film Ticket to Paradise, it took the pair 80 takes to get a perfect shot kissing.
"Yeah. I told my wife, 'It took 80 takes,' " Clooney told The New York Times. "She was like, 'What the hell?'"
Roberts says, "It took 79 takes of us laughing and then the one take of us kissing." The duo's on and off screen chemistry is respected by their beloved spouses. George Clooney's wife, Amal Clooney, for example visited the set of Ticket to Paradise on the day he was scheduled to film the kissing scene with Roberts. She even brought their two children along!
George says that luckily, Amal and the kids weren't around when the kissing went down, but it was all just fun and games to Roberts, who said that kissing Clooney is like "kissing your best friend," to which Clooney made it his duty to remind her that she was kissing a "two-time Sexiest Man Alive".
How George Clooney 'Saved' Julia Roberts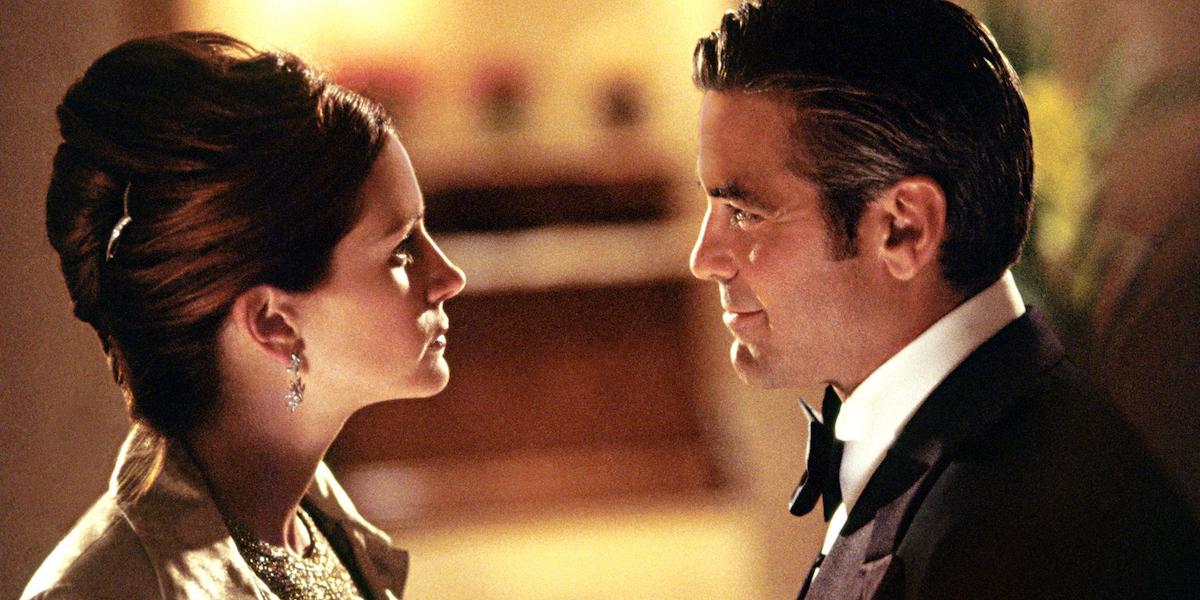 While filming Ticket to Paradise in Australia, Roberts said that she was in a bubble, it was the longest she had been away from her family and hadn't spent that much time by herself since she was 25 years old. She went on to explain her loneliness and despair. But thankfully, the Clooneys stepped in and saved her from the depths.
Unlike Roberts, Clooney brought his family to Australia. To make Julia feel at home, he'd visit her house in the mornings before shooting on set. Clooney told the New York Times, "I would come out in the early mornings and be like, 'Caa-caa,' and Julia would come out and be like, 'Caa-caa.' And then we'd bring her down a cup of coffee. She was Aunt Juju to my kids."
It's evident that both Julia Roberts and George Clooney truly share the same approach to life. They're both family oriented and like to keep their family lives private and away from the Hollywood spotlight. Roberts is married to American cinematographer Danny Moder, and together they have three children.
Clooney is married to international human rights lawyer, Amal Clooney, and together they share six-year-old twins, Alexander and Ella.
Do their families get along? Absolutely. In fact, in an interview for W Magazine, Julia detailed that she often visits Clooney's home in Lake Como, Italy, and has been spotted with her husband at Lake Como for holidays like the Fourth of July and Christmas.
Maintaining Friendships the Clooney and Roberts Way
In a place like Hollywood, making friends, much less lifelong friends, isn't so easy in a business that's lucrative and demanding. But Julia Roberts and George Clooney's friendship has lasted, thrived and continues to get stronger as the years go by.
Growing friendships, especially with the added pressure of new families, responsibilities, and the ever-elusive time, isn't an easy task as adults. But these two show a sense of humor, understanding, support, and general respect for one another, through good times and bad, goes a long way.
KEEP READING: